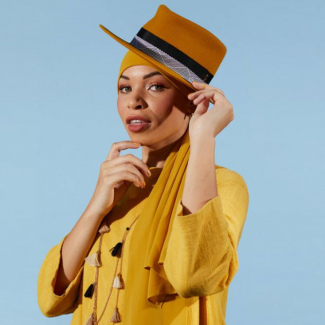 Blair Imani is a critically-acclaimed historian, social activist, public speaker, educator and influencer. She is the author of two historical books Modern HERstory: Stories of Women and Nonbinary People Rewriting History (2018) and Making Our Way Home: The Great Migration and the Black American Dream (2020). The New York Times praises Blair Imani's unique "brand combining progressive lessons with vibrant visuals and a perky, quirky delivery." Her work centers women and girls, global Black communities, and the LGBTQ community. 
Blair Imani educates using a variety of social media platforms (Youtube, Instagram, TikTok) in addition to speaking at universities and organizations around the world. She serves on the board of the Tegan and Sara Foundation, and Muslims for Progressive Values.
Hailing from Los Angeles, California, Blair Imani attended Louisiana State University where, in 2014, she founded Equality for HER, a non-profit organization that provided resources and a forum for women and nonbinary people to feel empowered. Her fearless leadership took her to the front lines of anti police violence protests and, following her arrest at the protests of Alton Sterling's murder in Baton Rouge, Blair began building a platform and social media presence to organize and create awareness about injustices in Black, LGBTQ+, and Muslim communities. 
Following her meteoric rise to prominence during the uprisings of 2020, Blair Imani was profiled by The New York Times to discuss her daily routine as a historian, social activist, and influencer. A highly sought-after public speaker, Blair Imani has appeared on FOX News ("Tucker Carlson Tonight") and MSNBC ("The Point"), presented at colleges and universities (including Harvard, Yale, and Brown), spoken at progressive conferences around the world, and has delivered powerful talks and speeches for organizations that include GLAAD, TEDx, and LoveLoud.
Her viral TEDxBoulder talk, "Queer & Muslim: Nothing to Reconcile", has sparked important discourse about the intersection of the two identities. In 2019, she was proudly featured in New York City Pride's campaign honoring the 50th anniversary of the Stonewall Riots. From the United States to Germany, Kenya, and the United Kingdom, Blair Imani has inspired audiences around the world.
As an Influencer and historian, semi-retired organizer, and public speaker, Blair Imani is dedicated to making the world a better place and amplifying the voices and work of those fighting the good fight.