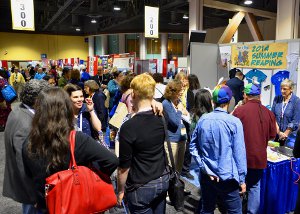 Attendees peruse exhibits at CLA 2013
California Library Association's Annual Conference is California's premier event for library professionals. Attendees have the opportunity to network and learn via workshops, presentations, and special events; meet vendors and check out their latest products and services; and hear world-renowned speakers inform, motivate & entertain.
CLA 2014
We're proud to present our 116th Annual Conference and Exhibition at San Francisco Bay's Oakland City Center Marriott this November 7-9, 2014. This year's theme is "Be the Change."
We selected Oakland as our 2014 conference location for its quality conference facilities and accommodations, its vibrant culture, and its accessibility. The city is bursting with new restaurants, art galleries, clubs, music, and more! We look forward to seeing you there.
Questions or comments about conference? Send us an email at info@cla-net.org.
Follow us on Twitter @CalLibAssoc for the latest conference buzz and other CLA news. Tag conference-related tweets with #CLABeTheChange.
Curious what CLA '13 was like? Check out last year's conference website.
As a new employee, attending the CLA conference took three months off my learning curve, and gave me great ideas.
–2013 Conference Attendee