California's premier event for library professionals gets a premier venue and location in beautiful southern California. Read more about this year's conference facilities, participating hotel, and the local scene in the sections below.
Conference Venue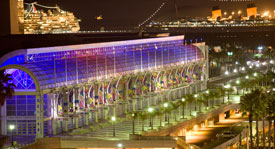 CLA 2013 will be held at Southern California's Long Beach Convention & Entertainment Center, one of Northern California's premier convention facilities. This unique waterfront venue offers, among other things, expansive views of Long Beach's scenic harbor and skyline– with plenty of restaurants, shops and attractions in walking distance. To explore the venue further, check out our Convention Center event microsite or the main Convention Center website.
Photo by LB Convention Center Bureau
Participating Hotel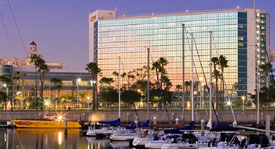 The participating hotel for CLA 2013 is the Hyatt Regency Long Beach. A few steps away from the Convention Center in picturesque Rainbow Harbor, Hyatt Regency Long beach offers incredible water views and an ideal location for conveniently attending conference as well as taking in some of the local sights and flavors. To read more about Hyatt Regency Long Beach, search for accommodation packages, and reserve your room, please visit Hyatt Regency Long Beach–CLA 2013
Photo by Hyatt Regency Long Beach
Surrounding Location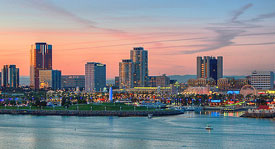 Long Beach's beautiful downtown waterfront is located approximately 25 miles south of Downtown Los Angeles, and  is home to attractions, shopping, entertainment, nightlife, and more than 100 quality restaurants serving cuisines from around the world—all within walking distance of the Convention Center and Hotel.  Local sights of interest include the RMS Queen Mary, a huge art-deco oceanliner permanently docked at Long Beach, and the nonprofit Aquarium of the Pacific that showcases the various inhabitants and seascapes of the Pacific Ocean. For more about Long Beach, visit longbeach.gov/visitors/
Photo by Himefrias, Wikimedia Commons
Local discounts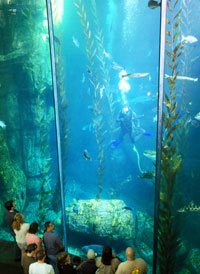 Present your conference badge at the Aquarium of the Pacific after 2:00pm to visit for only $8! (Regular price $25.99.) The Aquarium has more than 11,000 animals representing the diversity of the Pacific Ocean, and visitors can interact with sharks and rays, feed lorikeet birds, touch sea jellies, visit the new Penguin Habitat, and more!
Photo by Jjinfoothills, Wikimedia Commons
CLA conference attendees will also receive special offers and discounts at local restaurants! Just show your conference badge at participating venues (New venues are being added all the time!).
Getting around
If you would like to go further afield, Long Beach Transit also has a complimentary Passport Shuttle Route that services Pine Avenue, local attractions, hotels and businesses.
---
Check out this slideshow for a quick impression of the venue and surrounding area.
---
"Very informative, instructive, and useful!"
–2012 Conference Attendee