Just a few of this year's highlights are featured below. For full details on our fantastic lineup, check out our complete preliminary conference program.
Special Event: CLA Annual Awards Gala & Prom

Join your friends and colleagues in celebrating this year's award winners at the annual Awards Gala, our most glamorous conference event! CLA President Derek Wolfgram will honor some of CLA's best and brightest as you enjoy a three-course meal overlooking a stunning harbor view in Hyatt Regency Long Beach's luxurious Beacon Ballroom.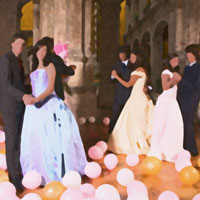 Our theme is "Prom Night!" So dust off your poofy dresses (or your elegant dress) and your tuxedos (or that nice suit). Gala Attendees can stay in the banquet hall for CLA Prom, a prom-themed after-party with music and dancing till midnight. DJ and cash bar provided.
In the mood for dancing but can't make it to the awards ceremony? Tickets to the after-party only are also available for purchase. Come along to the CLA prom and dance into the night!
Beacon Ballroom: Hyatt Hotels. Dancing figures: Adapted from MS Free Images.
Keynote Speaker: Henry Rollins
Poet, singer, author, photographer, actor, raconteur, and all round Renaissance man Henry Rollins will open conference and inspire us all to "Let's Make Some Noise!"
Henry's thoughtful, insightful, and passionate commentary on social issues can be found across multiple media. Originally best known as the singer for the seminal southern California punk rock band Black Flag, from 1981 to 1986, and the Rollins Band in the decade that followed, he has also released over a dozen spoken word albums in which he shares his commentary on a host of social and political topics. He has published fifteen books of journals, poetry, autobiography, and photography, including 1992's Black Coffee Blues, 1994's Get in the Van: On the Road with Black Flag, and most recently, 2011's Occupants, a collection of photographs from around the world paired with essays about the world condition, which wired.com called "an impressive collection built entirely out of Rollins' desire to expose readers to corners of the world they may otherwise never see." Read more
Special Event: Tour of RMS Queen Mary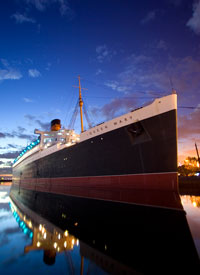 Join your fellow CLA noise-makers for a fun afternoon of camaraderie and culture, and we'll throw in a big boat too!
Coffee and chitchat before boarding a shuttle to the regal RMS Queen Mary. Once there, the group will pick up self-guided audio tour headsets and set off to explore the amazing sights and sounds of this great ship. As we listen to the stories behind the pictures and the artwork of the legendary ship, and learn about everything from her groundbreaking construction to her royal launch, we'll get to know the real Queen Mary up-close and personal. Also included is the Ghosts and Legends Show, an interactive special-effects adventure highlighting the mystery and lore of the historical ship.
After the tour we can stay on the boat and have a drink at the Art Deco Bar, chowder at Chelsea's Chowder House, or a simple sandwich at the Midship Marketplace, or head downtown for a meal before the Grand Opening of the Exhibit Hall.
Photo by Destinations Magazine
Special Event: Beatty and California Young Reader Medal Luncheon
Please come along for a celebration of this year's Beatty and CYRM award winners. We will be joined by authors Barb Rosenstock, Ally Condie, and Caldecott Award-winning illustrator Mordicai Gerstein. Ms. Rosenstock and Mr. Gerstein are Beatty Award recipients for The Camping Trip that Changed America, and Ms. Condie is the CYRM Young Adult category winner for her novel Matched. Attendees will enjoy great conversation and a delicious lunch overlooking the stunning Long Beach Harbor. We hope to see you there!
Membership Meeting Speaker: Louis Fox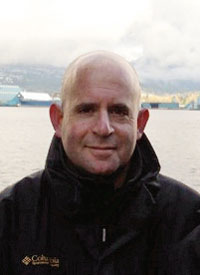 Louis Fox is President & CEO of the Corporation for Education Network Initiatives in California (CENIC), a non-profit corporation that represents the common interests of California's education and research communities in achieving robust, high-capacity, next-generation Internet communications services. Prior to joining CENIC a year ago, Louis served for nearly three decades as a faculty member, researcher, and senior administrator at the University of Washington and at Duke University. CENIC provides networking services to the University of California campuses, California's major private colleges (charter members: Caltech, Stanford, USC), all California State Universities, all California Community Colleges and satellite sites, and the entire California K-12 community. Over 10,000 institutions and 10 million students, faculty, teachers, and staff use the CENIC network every day. We hope, very soon, that California's public libraries will be among the communities served by CENIC.
Special Event: Movers, Shakers, and Noisemakers!
Christy Aguirre, Sacramento Public Library, Kenn Bicknell, Dorothy Peyton Gray Transportation Library, Los Angeles County Metropolitan Transportation Authority; Milly Lugo, Santa Ana Public Library; Michelle Perera, Rancho Cucamonga Library Services. Moderated by Cindy Mediavilla, California State Library
End conference on a high-note with California's most recent Library Journal Movers and Shakers. Cindy Mediavilla will lead an inspiring and revealing discussion on what it means to thrive in leadership. Leave conference ready to do some moving and shaking yourself!
Preconference Workshop: Clamoring for Service Excellence! California Library Literacy Programs: Let's Make Some Noise!
This lively pre-conference will focus on two key topics:
Raising the Roof for Tutor Training: An interactive panel discussion of the pros and cons of various approaches to tutor training including traditional face-to-face training; "Just in Time" training; on-line training; and combined delivery. Experts in the various delivery methods will highlight their successful (and not-so-successful) experiences as well as sharing tips for orchestrating positive changes into your program.
Moderated by Carla Lehn, CLLS
As a library programs consultant for the California State Library, Carla Lehn assists libraries with volunteer, board, and community development issues, and also serves as the staff person for California Library Literacy Services. In addition, she leads a statewide library volunteerism initiative: Get Involved: Powered by Your Library. Driven by research on how baby boomers' interests are changing the face of volunteerism, the project's dual purpose is to recruit high impact volunteers to share their skills to engage them as strong library supporters. Carla's well-versed passion regarding the vital role of quality training for volunteers is sure to stimulate rich insights.
Let the Rumpus Begin! Building a Better Collection: A dynamic discussion by librarians, literacy professionals and book sellers about how to build a strong literacy collection. Included will be tips on weeding, how to buy appropriate materials and how best to shelve in order to make your collection as useable, meaningful and friendly as it can be.
Moderated by Amy Crepeau, Huntington Beach Public Library
Amy Crepeau has coordinated the Family Literacy Program at Oak View Branch Library since 1997 and is now just over the halfway mark earning her MLIS through San José State University. Amy loves looking at and hearing the varied materials available for adult literacy and ESL students, and finding the right material to meet the needs of learners is an ongoing quest. As she has fallen victim to purchasing the "miracle" teaching resource that turns out not to be so miraculous, Amy promises to be a moderator fully engaged in the topic.
Sponsored by the Literacy Interest Group and the Southern California Library Literacy Network (SCLLN), one of eight regional library literacy networks comprising California Library Literacy Services, a program of the California State Library.
Preconference Workshop: Paws to Read: California Summer Reading Program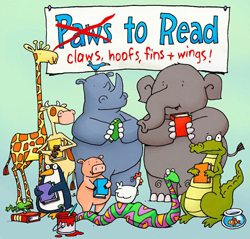 Natalie Cole, California Library Association; Jill Donovan, iREAD; Lori Easterwood, Sacramento Public Library; Jill Harris, San Rafael Public Library; Anna Hartman, San Diego County Library; Nicole Powell, Sacramento Public Library; Courtney Saldana, Ontario City Library; Susie Serrano, Butte County Library; Celeste Steward, Alameda County Library; Sarah Vantrease, Butte County Library; Laurie Willhalm, Oakland Public Library
Join us for CLA's annual summer reading training workshop, where we'll showcase creative programming, decorating, and outreach ideas for pre-school, children's, tween, teen, and adult summer reading programs inspired by the 2014 animal theme Paws to Read. Attendees will participate in small-group discussions and hands-on craft stations, enter to win Paws to Read incentives, and brainstorm ideas for the 2016 slogan. Display your best summer reading logs, flyers, posters and other materials and browse samples from around the state in our new Show-and-Tell area.
Sponsored by ScholarShare/TIAACref
---
"I felt a renewed sense of urgency after attending CLA. It was a wonderful opportunity to meet smart, friendly people who are doing innovative things."
–2012 Conference Attendee