CLA is partnering with Guidebook.com this year to offer a personalized, interactive, mobile-friendly conference guide for attendees. You can find a real-time schedule, maps to each session, create your own personalized itinerary, connect with other attendees, and more!
Key steps
Download the Guidebook app for either iOS or Android.
Using the Guidebook app, scan the "CLA 2015" QR Code or search for "CLA 2015" to download the CLA Conference program to your Guidebook
Begin using Guidebook to make the most of your conference experience!
Downloading the Guidebook app
Visit the Guidebook download page: https://guidebook.com/g/cla2015/
Click the iOS or Android icon to have an app store link texted to your phone.


Alternatively, search your app store for the Guidebook app and install (it's free, of course).
Downloading the latest CLA program to Guidebook
Once you've downloaded the Guidebook app, you'll use it to download the CLA program to Guidebook.
Open the Guidebook app on your phone or tablet.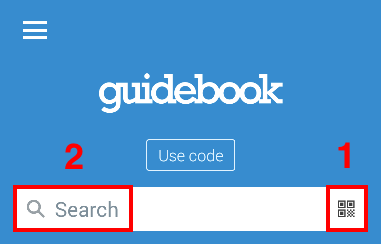 Method 1:

Click the QR icon on the Guidebook home page and scan this QR code:

Method 2:

Use the "Search" field to search for CLA 2015

Click the "Get this Guide" button to download the CLA 2015 Guide

Once the CLA Guide has downloaded, you should see a welcome screen explaining the basics of navigating the app.
Enjoy a real-time schedule, venue maps, and networking tools!
If you get stuck or have questions, email info@cla-net.org. Onsite, please visit the Registration Desk for assistance.