CLA AWARDS RECEPTION GALA
Thursday, November 3, 2016 | 8 PM – 10 PM
Hyatt – Regency B, C
Ticketed Session – (A few tickets still available. Register at the Convention Center Registration Desk or at the Hyatt Ballroom Foyer Registration – See Registration Schedule)
Join us in a celebration of the best in California Libraries. These inspiring leaders have been swinging into action to make libraries better and this is the opportunity to award their accomplishments. Drinks and dessert will be served.
See more detail about  the 2016 CLA Award Winners and California Library Hall of Fame Awardees who will be honored.
Featured Speaker: Tippi Hedren, who starred in Alfred Hitchcock's The Birds and Marnie, Charlie Chaplin's A Countess from Hong Kong, and Roar. She is the founder of Shambala Reserve, an animal sanctuary. She lives in Los Angeles, California.
---
KEYNOTE SPEAKER JONATHAN PERELMAN: CREATING YOUR LIBRARY'S STORY AND TELLING IT TO THE WORLD
Friday, November 4, 2016 | 9 AM
Convention Center – 202 – 204 Combined
Jonathan Perelman shares how to stand out, rise above the noise, and get your organization's voice heard online by telling stories that resonate in a memorable way. He offers audiences eight tips for creating shareable, social content that spurs growth.
As the vice president of BuzzFeed motion pictures, Perelman was critical to its transformation into one of the internet's biggest – and most effective – producers of video content. Before BuzzFeed, Perelman spent more than six years at Google as the global lead for industry relations. He is also the founder of Lighthouse Group, an independent media firm and currently serves as the head of digital initiatives at ICM Partners.  He is also the winner of a 2015 Billboard Magazine Digital Players Award.
---
CALIFORNIA YOUNG READER MEDAL AND BEATTY AWARD LITERARY TEA
Friday, November 4, 2016 | 3 PM – 5 PM
Hyatt – Regency B
Ticketed  Event – Now Closed
Enjoy an afternoon tea while mingling with Children's and YA authors! You will also receive free books and have an opportunity to pose for pictures with the Golden Gate Bridge and your librarian friends in our photo booth.
The California Young Reader Medal (CYRM) introduces young readers to a variety of book genres and formats and gives them an opportunity to honor their favorite books. This year we will honor the CYRM Intermediate and Middle School winners: A Dog Called Homeless by Sarah Lean and Dogtag Summer by Elizabeth Partridge.
The John and Patricia Beatty Award honors the author of a distinguished book for children or young adults that best promotes an awareness of California and its people. This year we will honor This Bridge Will Not Be Gray by Dave Eggers; illustrated by Tucker Nichols.
You won't want to miss the CYRM/Beatty Awards Authors' Tea! Register today!
Honorees: Sarah Lean, Elizabeth Partridge, Dave Eggers, and Tucker Nichols
---
CPLA AWARDS DINNNER: STRENGTHENING CALIFORNIA LIBRARIES THROUGH ADVOCACY AND EDUCATION
Friday, November 4, 2016 | 7 PM – 9 PM
Hyatt – Regency A
Ticketed Event – Now Closed
You are invited to attend the 2016 California Public Library Advocates (CPLA) Awards Dinner, where outstanding library advocates throughout our state will be honored and celebrated. From librarians and the media to legislators and Trustees/Commissioners/Friends and Foundation members, you will be part of an event that recognizes those that go the extra mile in demonstrating by their actions that libraries matter in California! Come hear their inspiring stories and be inspired yourself. You will also hear from the Honorable Carlton Jones, city of Tulare.  He is a vocal library advocate from Central California.  Buy your ticket(s) today and be a part of the 2016 CPLA Awards Dinner!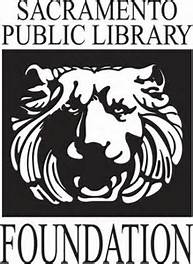 We wish to thank the Sacramento Public Library Foundation for their sponsorship of the Awards Dinner!
CPLA: Strengthening California Libraries through Advocacy and Education
---
CHINESE COUPLETS FILM SCREENING AND PANEL DISCUSSION
Friday, November 4 | 3:45 PM – 5:45 PM
Convention Center – Room 205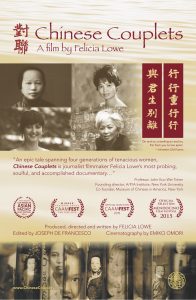 Film Synopsis
Chinese Couplets reveals the impact of the Chinese Exclusion Acts on one family, over two centuries in three countries, on four generations of women.  Told from the filmmaker's point-of-view, the documentary explores the universal themes of intergenerational strife between immigrants and their American born children, the often painful price paid by immigrants who abandoned their personal identity and their homes, and the burden of silence passed on to their offspring.  Through one family's "micro" history, Chinese Couplets reveals the complex and contradictory nature of our national character: an America that embraces and welcomes immigrants, while at the same time being profoundly xenophobic and exclusionary to successive waves of ethnic and racial newcomers.  Filmmaker Felicia Lowe will be present.
Post-screening panel
Immigration history, race, identity, and family relations are among the themes in Chinese Couplets. How to expand the screening experience beyond the walls of the classroom/library and enable students to make connections between what they are learning and what is happening in their communities, the U.S. and the world will be the topic of this panel.
Panelists
Felicia Lowe is an award winning independent television producer, director, and writer with more than 30 years of production experience. She's eager to introduce her latest film, Chinese Couplets to the educational market and looks to librarians to assist in her launch. Lowe received an EMMY for Best Cultural Documentary for Chinatown: The Hidden Cities of San Francisco.  Carved in Silence, her documentary about the experiences of Chinese immigrants detained on Angel Island Immigration Station has become the standard primer in classrooms, and China: Land of My Father, a personal journey to meet her paternal grandmother in 1979 have all garnered awards and have also been broadcast on PBS and abroad. In earlier times, Lowe was a broadcast journalist and taught film production and scriptwriting at San Francisco State University and Stanford University. A descendent of Angel Island detainees, she's been actively involved with the preservation of the Angel Island Immigration Station.
Judy Lee is a librarian at the University of California, Riverside (UCR), providing reference and instructional services, as well as selection of materials for Asian American, women, gender, and sexuality studies.  She has served on a number of UCR committees related to diversity. Among her work in the community she has served on the Multicultural Council of the Riverside Museum Associates and was a co-founder of the Save Our Chinatown Committee (Riverside, CA).  She is a member of the Asian Pacific American Librarians Association (APALA) and the organization Asian and Pacific Islander Americans in Historic Preservation (APIAHiP).
Ben Fenkell is a third-generation Filipino-American and serves as the lead park interpreter for the U.S. Immigration Station at Angel Island State Park. He has worked for California State Parks for the past 20 years, and comes from a background of activism and youth leadership in the Sacramento Filipino-American community. His work in the Sacramento area includes board member of the Philippine National Day Association, the Sinag-Tala Filipino & Performing Arts Association, and director of the Filipino American Youth Leadership Conference.
---
THE POWER AND APPEAL OF POETRY AND THE IMPORTANT ROLE OF LIBRARIES
Saturday, November 5, 2016 | 11 AM to Noon
Hyatt – Regency D, E, F

---
CLA's 7th ANNUAL BATTLEDECKS COMPETITION
Friday, November 4, 2016 | 10 PM – 11:30
Hyatt – Regency C

We know it's been a long day but, seriously, this is where the real fun begins!
Battledecks, also known as PowerPoint Karaoke, is a fast-paced, fun, hilarious event where your colleagues attempt to put together semi-coherent presentations on the fly with random slides they've never seen. Contestants are judged by a panel of low-level celebrities and audience participation. If you are interested in showcasing your gift for talking about subjects you know nothing about, please contact Jennifer Baker at jenrgee@mail.com (subject line: Battledecks). Cash bar. Immediately after announcing our 2016 champion, we will really Swing into Action. Grab another drink and stick around for the best CLA dance party ever!
CLA SWING DANCE PARTY!
Friday, November 4, 2016 | 11:30 PM – 1 AM
Hyatt – Regency B, C

Are you ready to Swing into Action? It's time to dust off your spats and Mary Janes. Doesn't matter if you jitterbug, lindy hop, west coast, or just tap your toes; we can accommodate all that jazz! We'll dance the night away to classic big band songs, disco, retro, and 21st Century music too. No dance experience? No partner? No problem! We'll have a beginner friendly lesson for the first half hour so you'll be jumpin' and jivin' in no time. Even if you'd rather just watch, this event is not one to miss! Cash bar.
---
MINI GOLF COURSE
In the Exhibit Hall, open for individual play throughout Exhibit Hall Hours
Open for tournament play:
Thursday, November 3 | 4:30 PM – 6:30 PM
Friday, November 4 | 12 PM – 1:30 PM
Have you got game? Have you got GOLF game? It's time to swing into action at the first ever CLA Conference Mini Golf Extravaganza! Play the nine holes solo or participate in tournament play. Even if you don't play, vote on the best library system designed hole. The winning library will not only win bragging rights, but also a %500 American Express Gift Card.
---
OCLC UPDATE BREAKFAST
Saturday, November 5, 2016 | 8 AM – 9 AM
Hyatt – Regency A
Ticketed Event – Now Closed

Please join us at a complimentary breakfast and discussion of what's new at OCLC, your library cooperative. Pam Bailey, Director, OCLC Global and Regional Councils, will present an update on OCLC services developments and recent OCLC research and initiatives.
Pam Bailey is Director, OCLC Global and Regional Councils, and is OCLC's primary liaison with these councils, which help guide the direction of the OCLC cooperative. She also speaks on a variety of topics, including training, library workflows, ways to promote library services and managing diverse workgroups. Pam joined OCLC in 1986.
---
CALIFORNIA STATE LIBRARY DISCUSSION
Saturday, November 5, 2016 | 9:45 AM – 10:45 AM
Hyatt – Regency D, E, F
Ticketed Event – (Tickets still available, register at the Conference Registration Desk – See Registration Schedule)
Meet with colleagues from throughout the state to hear the latest news from the California State Library, as well as to find out what's coming up next from State Librarian Greg Lucas. Unlike past years, this will be a FREE event, but space is limited so attendees will need to pre-register.
---
MEMBERSHIP MEETING: THE FUTURE OF LIBRARIES
Saturday, November 5, 2016 | 4 PM – 5 PM
Convention Center – Room 202-204 Combined

Hear from Miguel Figueroa and learn how The Center for the Future of Libraries works to: Identify emerging trends relevant to libraries and the communities they serve, promote futuring and innovation techniques to help librarians and library professionals shape their future, and build connections with experts and innovative thinkers to help libraries address emerging issues
Miguel Figueroa, ALA Center for the Future of Libraries
Figueroa is the head the new American Library Association Center for the Future of Libraries. He previously served as Director of Member Programs for the American Theological Library Association in Chicago and Director of the Office for Diversity and Spectrum Scholarship Program and the Office for Literacy and Outreach Services at the American Library Association.
Additionally, attend this year's California Library Association Membership Meeting to hear the State of the Association report, and witness the passing of the gavel from President Misty Jones to Incoming President Helen McAlary.
---
COMMUNITY CONNECTIONS: HIGHLIGHTING THE NOT-SO-OBVIOUS LIBRARY PARTNERS
Sponsored by

Saturday, November 5th | 6:00PM – 7:30PM
Sacramento Public Library, Central Library, Tsakopoulos Library Galleria
828 I Street, Sacramento, CA 95814

Ticketed Event – (Tickets still available, register at the Conference Registration Desk – See Registration Schedule)
What do little libraries, inmates, eating your vegetables, learning to talk about racism and fairytales have in common? They are the means to connect communities with ideas, relationships and services that strengthen our communities.
Join us in the Tsakopoulos Library Galleria to hear from our partners about why the library is integral to supporting and enhancing their mission and ours.
The folks from the Free Little Library, headquartered in Madison Wisconsin will join us as they complete the final leg of their road show.
Ted-like talks will include Amber Stott, Executive Director of Food Literacy Center, Kathy Fleming, Fairytale Town's Fairy Godmother, Pamela Rogers with the Sacramento County Jail and Lynn Berkley-Baskin from Sacramento Faces Race.
---